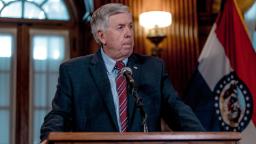 Roughly 275,000 low-income adults in the state are now eligible for coverage. MO HealthNet, the state's Medicaid program, has already received more than 17,000 applications since the sign up process started in August.
Missouri was required to expand Medicaid after
voters approved it
in August 2020 by a vote of 53% to 47% — becoming the sixth state to accept the Affordable Care Act provision at the ballot box.
It was supposed to take effect on July 1 but was halted by Parson, who said in May that the state could not proceed because lawmakers had not appropriated funding.
A
legal battle
ensued, with plaintiffs arguing that the state's Medicaid program has been funded by the General Assembly and that lawmakers do not need to set aside specific money for expansion enrollees.
Extra federal funding
However, the remaining 12 states that have yet to expand Medicaid have not announced any plans to take Congress up on its offer. All have Republican governors or GOP-controlled legislatures.
More than 2 million uninsured adults fall into the "coverage gap," meaning their incomes are too high for them to qualify for Medicaid in their states but too low for them to be eligible for subsidies to help with Affordable Care Act premiums. The subsidies are open only to those who earn more than 100% of the poverty level in non-expansion states.